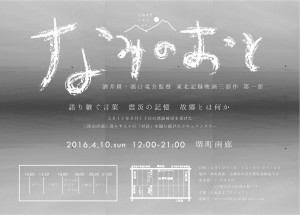 This movie must be interesting. I always enjoy seeing the movies at Sakaimachi Garow gallery, which is run by my old friend ever since high school days.
One thing I was worried about was the projector's unsuitable placing. it was situated temporarily on an unstable box or stack of books on a sculpture pedestal, because the pedestal is too low for the screen. Thanks to the wide lens, the projector was placed right in the middle the first row of the audience, but it occupies an area for one or two viewers, and the cables are running all over around it, so that there is a good chance of one can get caught and tip it over– causing a disaster.
I recently helped the gallery introduce a new and more powerful projector. It comes with high definition image quality and a brighter lamp, but has to be placed farther back due to its focusing ability; therefore it needs more height in order to clear the audience's heads. I don't by the idea to set the expensive device on an insecure makeshift pedestal.
To solve these problems, I made a new "pedestal extender" that helps to place the projector higher and stabler. The materials are mostly from the leftover lumbers for my Hanase house.
Now that the new projector has the function of horizontal keystone correction, it may sit immediately next to a sidewall of the gallery. It takes away only a small area and the cables can be run along the wall to avoid a tangling-blunder accident. The extender has an angle-adjustable top plate to compensate the keystone correction, and it can sit up-side-down so as to lower the height.
So, finally I can fully enjoy watching the movie at Sakaimachi Garow without getting bothered by the projector in sight and worried by its instability.