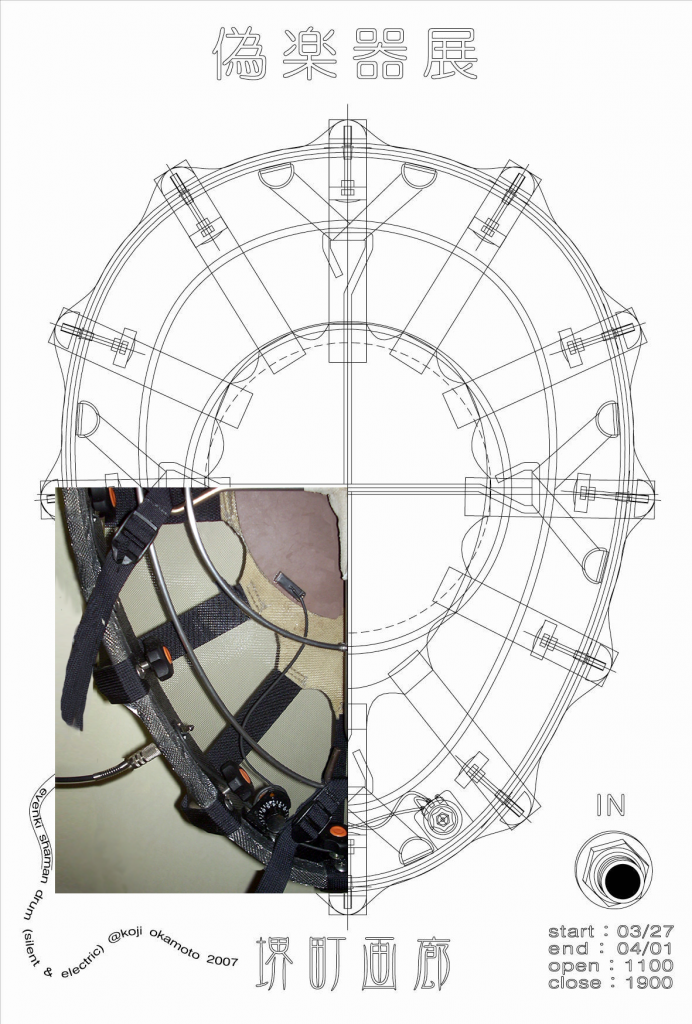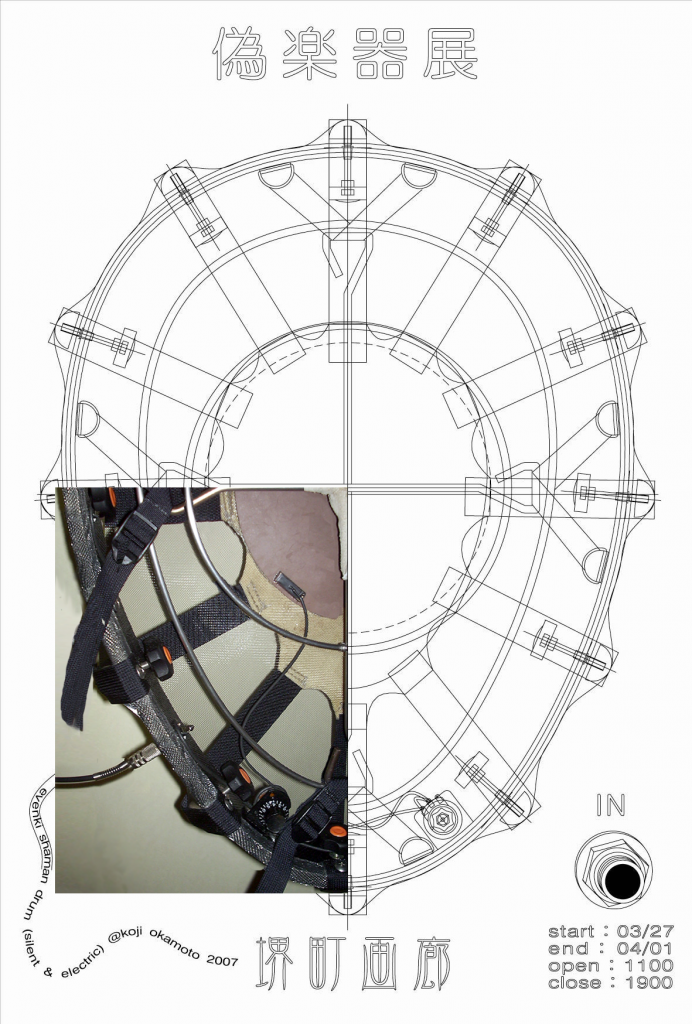 日本語はこちら
Evenki is a people of eastern Siberia and the north-eastern part of China. Living on reindeers that need to be grazed on fresh moss and grass in the forests, Evenkis lead nomadic life, changing their dwellings from time to time to seek their animals' food. Like other minorities inhabiting the northernmost fringes of Eurasian continent, they believe in shamanism… That's all I know about Evenki.
Evenki shaman uses a single-head drum, which is commonly seen not only among various ethnic groups of Siberia but also in Sami people of northern Scandinavia, "Eskimos" (Inuits) and the Native Americans. Although I have never visited Evenki people nor touched such a drum, in a museum in Irkutsk, Russia, I once saw an instrument that resembles those shaman drums, though I don't even know if that was really Evenki's. However, from that time on, I have been fascinated by the shape of the drum– the oval, or rather, egg-shaped rim with strange protuberances around it.
I really wanted to have one for myself; however, I was no shaman nor even close, so that it didn't make sense that I would possess such a ritual instrument…. Nevertheless, I couldn't stop being avaricious and somehow made up my own version of the shaman drum for myself. Similarly, I would be worried when I later made a parody of another ethnic instrument–
"Silent Electric Baidarka Tonkori" a light metal chimera of the baidarka kayak of Aleut and the tonkori of Ainu. I hope they will generously understand…
An awkward rhythm of poorly played percussion instrument is as bad as novice's puke-inducing violin noise. In such a case, an electric instrument with headphones plugged in, which conveniently erase the noise, really helps… thanks to its soft sound even when unplugged, nobody around you won't be bothered or annoyed… Oh, I'd like to add that if you plug this silent drum to an electric amp and put on a pair of headphones over your ears, the trans-inducing power of shaman drum dramatically increases for the sound throbs right in the middle of your head!
エヴェンキとは東シベリアから中国の東北部に居住する民族のことである。新鮮な苔や草を食べさせる必要のあるトナカイに依存して暮らしているエヴェンキたちは、家畜の餌を求めて時々に居住地を変えながら遊牧生活を送る。ユーラシア大陸の最北辺部に居住する他の少数民族同様に、彼らはシャマニズムを進行する。。。というのが私の知る全て。
エヴェンキのシャマンは片面太鼓を使用する。そしてそれはまたシベリアの様々な民族グループだけでなく、スカンジナビア北部のサーミ人や、「エスキモー」(イヌイット)、アメリカ先住民にまで見られる。私はエヴェンキ人を訪問したことも、そのような太鼓を触ったことすら無いが、一度だけロシアのイルクーツクにある博物館で似たような楽器を見たことがる。ただ、それが果たして本当にエヴェンキのものであったかどうかはわからない。それでもあの時以来、楕円形の– というよりむしろタマゴ形をしたリムの周囲に不思議な突起のあるドラムの形に魅了され続けてきた。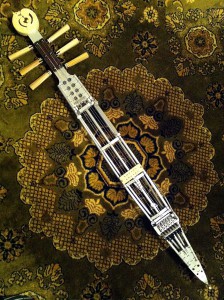 どうしても一つ、自分にも欲しかった。けれど、私はシャマンでも何でもないので、そんな儀式用の危惧を所有すること自体全くナンセンス。。。にもかかわらず、強欲な私は自分バージョンのシャマン太鼓をなんとかでっち上げてしまった。同様にして、後に別の民族楽器のパロディー楽器『サイレント・エレクトリック・バイダルカ・トンコリ』作ったが、それはアリュートのカヤック、バイダルカとアイヌのトンコリの軽金属性キメラであり、受け入れられるのか悩ましいところであった。彼らが寛容な理解を示してくれたら良いのだが、、、
調子っぱすれのぎこちないリズムで打楽器が演奏されたら、吐き気を催すようなバイオリン初心者の騒音と同じくらい気持ち悪い。そんな場合エレキ楽器はヘッドホンを繋いだら都合よく音が消えるし、、、いっそブラグを抜いてしまえば音は静かで周囲の人も悩まされることはない。。。さらには、両耳を覆うヘッドフォンを使えばトランス状態を呼び起こす音が頭の真ん中で疼くように響き、シャマンドラムのパワーが劇的に増大するのである。